LINKS TO INTERNAL PAGES
Books and articles by Martin Mobberley
ASTRONOMY BOOKS & ASTRONOMY ARTICLES
I have been writing articles on astronomy for as long as I can remember and gave my first astronomical talk (about Apollo 11) as a child, in 1969, at Cockfield School. One recent BAA paper (written with the late Ken Goward of the SHA) reveals, for the very first time, the full astronomical life of the stage and screen comedian Will Hay. Prior to that we also wrote a history of the Bury St Edmunds Athenaeum Observatory and its Victorian telescope, which I first used, as a 12 year-old, in 1970. If you would like a pdf copy of the Will Hay paper or the Athenaeum paper, please send me an e-mail. I also wrote a comprehensive paper on the life of the BAA observer Captain Ainslie which was published in the BAA Journal.

Between 1983 and 1991 I wrote 100 monthly articles on lunar photography in the BAA Lunar Section Circular. They proved to be very popular and I had loads of letters to answer! In 1994 Patrick Moore asked me to write a chapter in a book he was editing. The publishers (Springer-Verlag) liked the chapter and asked me to write others, as well as editing a book entitled Astronomical Equipment for Amateurs. I decided to write the whole book myself and it was published in late 1998. My second Springer book "The New Amateur Astronomer" was all about how to get into the new hi-tech era of digital astronomical imaging and discovery. New Amateur Astronomer has now been translated into Italian (!!) and the Italian edition was published in Autumn 2006. In early 2006 I completed a third book for Springer, called 'Lunar and Planetary Webcam User's Guide' which was printed in April 2006 and is available from Springer, Amazon and virtually every astronomy book supplier. An Italian version of that is also now available. My fourth Springer book "Supernovae and How to Observe Them" was published in February 2007. My 5th Springer book, called 'Total Solar Eclipses and How to Observe Them' went on sale in October 2007. A sixth Springer book entitled 'Cataclysmic Cosmic Events and How to Observe Them was published in 2008 and my seventh Springer book 'The Caldwell Objects and How to Observe Them' was published in November 2009. My eighth major book, also for Springer, is called 'Hunting and Imaging Comets' and came out in October 2010.

I have recently completed a new and comprehensive biography of Sir Patrick Moore. This is due to be published in September 2013.

Biography of Sir Patrick Moore

Biography of Patrick on Amazon UK

I have also written several small children's Space books for 'Top That' publishing. The first two, 'Space Navigator' & 'Space' (Know How, Know Why) are shown at the top of this page. My third 'Top That' children's book, is called the Space Stickertastic Book! (See below right). Space (Know How, Know Why) is occasionally advertised in two forms with the same cover, but they are both the same, just that one is printed in the USA! I have also been an occasional writer for the UK publication 'Astronomy Now', contributing more than 200 articles and (for zero payment) answering thousands of readers queries about telescopes and CCD cameras. In addition, I have had roughly 200 articles and meeting reports published in the BAA Journal, The Astronomer magazine, BBC 'Sky at Night' magazine, the Yearbook of Astronomy and Sky & Telescope. I have given well over 200 talks to the BAA and other Astronomy organisations. From Nov. 1990-1999 and Jan 2002 to June 2006 I delivered monthly 'Sky Notes' at BAA London meetings. I tried to make these as entertaining and NON-politically correct as possible ! My first BAA talk was delivered at a BAA Lunar Section Meeting in Reading in 1981, following a request from Geoff Amery. In 2009 I delivered a talk to 450 BAA members at the Royal Institution as part of the celebrations of Patrick Moore's 75 years of BAA membership.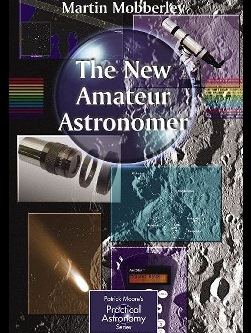 My first Springer book, Astronomical Equipment for Amateurs, plus Space Navigator and Space (Know How, Know Why), my first two children's Astronomy books.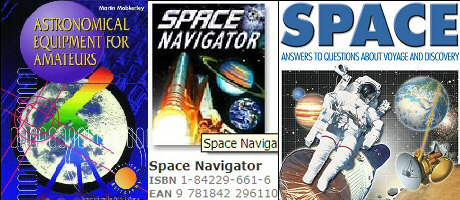 'Top That! Publishing Mini Maestro Books '....CLICK HERE
LINKS TO A TINY SAMPLE OF MY ARTICLES
Swift-Tuttle Apparition Report
Bury St Edmunds Athenaeum Observatory
Newtonian roll-out observatory
BELOW: The covers of some of my books with comments from reviewers and readers.